The John Harvey Gray Center for Reiki Healing had the honor of  participating at this year's Brain Tumor Walk held October 13th at Carson Beach, in Boston, Massachusetts.  The Center provided free Reiki sessions to those who took part in the 5k walk/run event.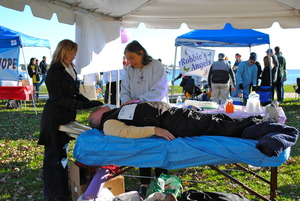 The Brain Tumor Walk is a nationwide community day and fundraising event for people whose lives have been altered by brain tumors.  At the annual walk, they meet with other patients, their families, and friends, and celebrate the lives of those who have been lost.  At the same time, participants raise funds for their sponsor, the National Brain Tumor Society, aiding its efforts toward finding a cure for the disease.
Reiki volunteer Lissa Stuart reports, "It was a perfect day for the Walk at Carson Beach. There were over 3,000 participants.  We gave Reiki sessions to grandparents, teens and infants. All of the
participants who received Reiki sessions absolutely loved them. Many were able to get rid of aches and pains!" Lissa continues, "We were able to share information with so many people.  Participants showed great interest in what we were doing. Lots of questions were asked. There was great teamwork among the Reiki volunteers. All of us were working together in unison … what a wonderful opportunity to introduce Reiki to this highly deserving population!" Reiki volunteer Angela Sakakeeny tells us "It was such heart warming experience! We were able to treat so many … a baby just melted in her father's arms while receiving Reiki, falling fast asleep."
We wish to thank the National Brain Tumor Society for inviting us to participate.  A  thank you goes to The John Harvey Gray Center for Reiki Healing volunteers Lissa Stuart, Susan Overstreet, Cindy Sosa, Angela Sakakeeny, Jill Alexander and Cher Tate for doing such a great job! We, at the Center, look forward to participating again in next year's regional Brain Tumor Walk.